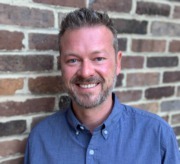 Scott was born and raised in Naperville, Illinois just 30 miles West of Chicago.  He attended Purdue University in West Lafayette, Indiana and graduated with a Bachelors of Science in Economics in 1997.  Upon graduation, Scott began his career in finance by becoming a member of the Chicago Mercantile Exchange.  As one of the youngest members of the exchange, Scott learned the fast-paced world of finance on the busiest trading floors on the planet.  Scott worked directly with the Chicago Mercantile Exchange Technology Department in implementing the first computerized order entry platform designed for Trading Floors around the globe.  Scott went on to design other computerized trading platforms for several different sectors of the financial industry and celebrated many successes over his 15-year financial career.
Scott joined the Florida Realtors Association in the fall of 2011.  The transition from trading financial markets to assisting clients in real estate investing was natural for Scott.  Drawing on his successes in the investment world, Scott has developed an excellent ability to match a client with the perfect real estate investment.  Information is key to any investment and Scott prides himself in being up to speed on the latest real estate news and market data.  It is Scott's market knowledge, experience, and attention to detail which has allowed him to provide the highest level of professional representation and guidance to every client.
Scott recently made the transition to Murfreesboro and has acquired his Tennessee Broker's License.  Scott joins the Elam Real Estate team as the Director of Sales bringing his 10 plus years of experience to a seasoned team of professional agents specializing in Middle Tennessee Real Estate.  Operating as a Director of Sales Scott will be focusing on developing new agents and increasing productivity while maintaining the highest level of client satisfaction.
"I am thrilled to be a part of Elam Real Estate and the stellar reputation Dan Elam and his team have worked so hard to establish.  I cannot wait to see what the future holds!" – Scott Newcom
Scott and his wife, Heather, moved from Port Charlotte, Florida after 15 years and have settled in their home located in Smyrna.  Savannah, their youngest daughter lives in Florida and is pursuing a career as a CAN.  Their oldest daughter, Alexus, and her husband Kevin are active military and are located at Fort Hood in Killeen, Texas with their 3 children.  Scott and Heather are active members of their church and participate in several ministries and bible studies on a weekly basis.  They love spending time enjoying the outdoors, traveling, and serving the community. 
"God has blessed us with an incredible marriage, beautiful daughters, and 3 amazing grandchildren!  We are so thankful to be in Tennessee and are constantly reminded of our Father's unending love for us as we explore the breath-taking surroundings of Rutherford County." – Scott and Heather Newcom
---
REVIEWS
Under Contract 408 Winding Way
Mc Minnville, TN 37110