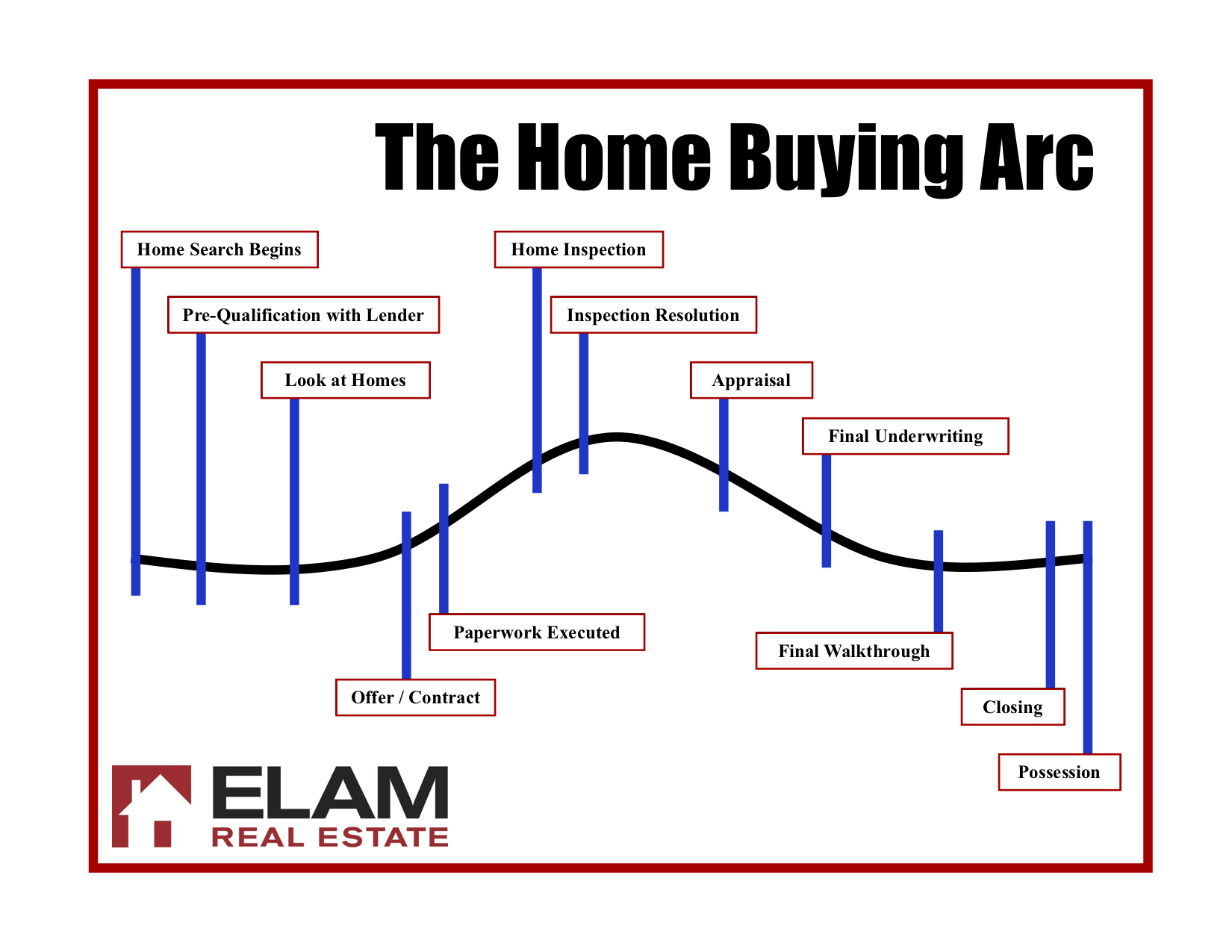 Buying a home can be an exciting and sometimes nerve-wracking experience. At Elam Real Estate, we are always working to make the process more predictable and enjoyable for our clients. We believe this outline will help you better know what to expect as you track your progress toward owning your next home.
Step 1: Home Search Begins
You're filled with excitement and high hopes. Our team will make sure you get started off on the right foot.
Step 2: Pre-Qualification with Lender
Less than 20% of home buyers pay cash, so it is likely you will need to figure out your financing before you start your search. This step is vital. It lets you know how much house you can buy and, more importantly, allows you to prove you're a serious buyer when you make an offer. With an Accurate Mortgage branch located right in our office, we have the resources to make your loan process as efficient and stress-free as possible.
Step 3: Look at Homes
This is the fun part. We will use our expertise and market knowledge to help you find the perfect home for you and your family. The systems and tools we've refined over more than two decades will make your experience fast and fun.
Step 4: Offer / Contract
You've found your dream home and now you have to convince the owners to sell it to you. We will help you prep and package your offer so it stands out from the crowd, which gives you a great opportunity to secure your dream house at the best price and terms the market will bear.
Step 5: Paperwork Executed
After the negotiations are completed, all of the paperwork must be executed properly so you have a legal, binding contract. We always dot our I's and cross our T's, ensuring everything in your transaction has been done properly.
Step 6: Home Inspection
A professional home inspection will help you discover most hidden defects that could affect the value and safety of your new home. Skipping this step in the process could turn into a costly decision for you and your family.
Step 7: Inspection Resolution
Once your home inspection is completed, our team will work with you and the seller's agent to negotiate the handling of any necessary repairs unearthed by the inspection. Keep in mind that the scope of repairs is generally limited health & safety, and property preservation issues. Repair of cosmetic items or defects known by the buyer before contract are usually addressed in the offer, if important to the buyer.
Step 8: Appraisal
If you're financing your purchase, the appraisal is the lender's final check on the home's value. While the bank places great importance on this one person's opinion, the appraiser's value calculations are not always in line with reality. Don't be surprised if the appraisal does not match the purchase price, especially in a rising market. If your appraisal comes in low, you could be faced with the choice of either bringing additional cash to closing or not buying the house.
Step 9: Final Underwriting
This is the last mortgage hurdle before closing, when all of the documentation and paperwork the lender has collected throughout the loan process is gathered together and reviewed for final approval of your mortgage. It is not uncommon for your loan officer to ask you for additional information and documentation during this time. Doing your best to supply the bank with everything they ask for in a timely manner will help keep things moving forward so your closing date is not delayed.
Step 10: Final Walkthrough
Normally, a day or two before closing, you will have the opportunity to walk through the house to make sure the condition has not changed significantly since you placed the property under contract. If all is well, you're ready to head to closing! If any major repairs were negotiated during the transaction, there may be more than one property inspection before closing to ensure everything was fixed as agreed upon.
Step 11: Closing
Money changes hands and all of the final documents are signed at the closing table. Once closing is completed, you own your new home.
Step 12: Possession
Sometimes, possession of your new home can come before or after closing, depending upon what was negotiated during the transaction. Once you are granted possession, the house is yours to move into and alter as you see fit. It is always a great idea to change all locks before moving any of your possessions into the house.